January 16, 2022
Worship Service (11:00-Noon)
Love is the overflow of joy in God! It is not duty for duty's sake, or right for right's sake. It is not a resolute abandoning of one's own good with a view solely to the good of the other person. It is first a deeply satisfying experience of the fullness of God's grace, and then a doubly satisfying experience of sharing that grace with another person. – John Piper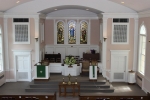 1st Scripture – I Corinthians 12:1-11 – Carl Price
2nd Scripture – Galatians 5:22-25 – Dr. Robby Bell
Sermon – "The Spirit's Fruit: Love" – Dr. Robby Bell
Click here to view this Sunday's Guide for Worship.
To print the Guide for Worship click .
YouTube – To view the live stream of our 11:00 AM worship service please click here.
Elder at the Door – Mike Linkins
Deacon on Duty – Sheryl McElwee
Adult Discipleship Class – In the current study entitled "Dust to Glory," which began on October 24th, the class examines the major themes, events, and people that are presented from Genesis to Revelation in the Bible. The videos by Dr. R. C. Sproul provide a panoramic view of Biblical truth and a starting point to help us understand the content of the Bible, gain new insights, and improve our ability to read, understand, and apply Scripture to our lives. The class is being led by Carl Price and others.
Nursery care (10:30-Noon) – The nursery is available for children ages 3 and under. An experienced nursery attendant, Mrs. Miriam Pringle, is on duty from 10:30 until Noon. The nursery is located on the first floor of the Education Building.