September 26, 2021
Lament is a cry of belief in a good God, a God who has His ear to our hearts, a God who transfigures the ugly into beauty. Complaint is the bitter howl of unbelief in any benevolent God in this moment, a distrust in the love-beat of the Father's heart. – Ann Voskamp
Worship Service (11:00-Noon)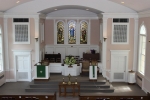 Sermon – "When the Heart Cries Out" – Dr. Robby Bell

First Scripture Lesson – Hebrews 2:14-18, 4:14-16 – Diane Click

Second Scripture Lesson – Psalm 13 – Dr. Robby Bell
Click here to view this Sunday's Guide for Worship.
To print the Guide for Worship click .
YouTube – To view the live stream of our 11:00 AM worship service please click here.
Elder at the Door – Woody Merritt
Deacon on Duty – Diane Click
Adult Discipleship Class – On Sunday, August 22nd, we will begin an eight-week study on the book of Psalms, using videos and curriculum by Dr. Sandra Richter from the Epic of Eden series. The class begins at 9:30 AM in the Rainey Room and will be led by Dr. Bell.
The key messages of this study include: what the book of Psalms is (the hymnbook of ancient Israel), how it was utilized in Israelite worship (the various "forms" of the Psalms), and why the book of Psalms remains critical to our devotional lives today. Dr. Richter also dives into the concrete realities of Israelite worship (the tabernacle, temple, priesthood, and sacrifice) as well as Israel's theology of worship wrapped up in their theocratic world view.
Nursery care (10:30-Noon) – The nursery is available for children ages 3 and under. An experienced nursery attendant, Mrs. Miriam Pringle, is on duty from 10:30 until Noon. The nursery is located on the first floor of the Education Building.