Our History
On July 10, 1904 the Anderson Associate Reformed Presbyterian Church was commissioned by the Second Presbytery of the Associate Reformed Presbyterian Church. The Rev. Robert A. Lummus served as the congregation's first pastor.
Fire gutted the church building on November 14, 1949 and the congregation began meeting at Anderson College while the decision to rebuild or relocate was being made. At a meeting of the church Session on January 10, 1950, Dr. and Mrs. James Rogers Young offered a plot of land on the corner of Boulevard and Second Streets for a new church building. If approved, their gift would be a memorial to their son, Louis Gray Young, who died serving his country in World War II.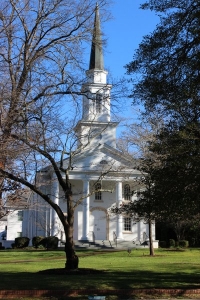 The congregation accepted their generous offer and voted to construct a new building on that site. At the recommendation of the Session, the congregation voted to change its name to "Young Memorial Associate Reformed Presbyterian Church" in memory of Louis Young. The church building, which underwent renovation and expansion of the educational wing in 2005, is located at 508 Boulevard.
For over a hundred years Young Memorial Church has been a vital presence in the Anderson community. A vision statement adopted for the 100th anniversary celebration on June 6, 2004 reflects the congregation's nature and ministry:
Our vision and hope:
– to seek to know God with open minds,
– to share the love of Christ with open hearts,
– to embrace the community with open arms.
Sources
Church records and A Goodly Heritage: A History of the Anderson/Young Memorial Associate Reformed Presbyterian Church, 1904-2004 by Flora Y. Preston and Harriett V. Richie.